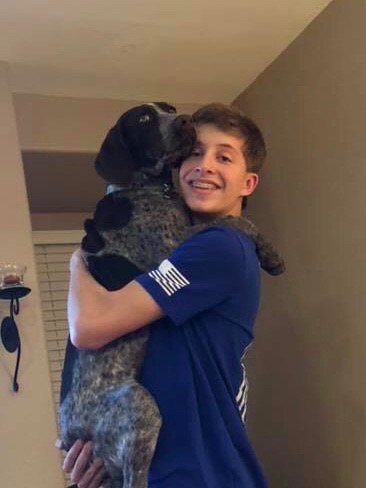 The Bowers Family has requested memorial donations to the Society for the Prevention of Teen Suicide in loving memory of Logan.
Logan Benjamin Bowers passed away on January 28, 2019. Logan was born December 19, 2004 to Adam and Brenda Bowers in Boulder, Colorado. Logan was a student at Mandalay Middle School in Westminster Colorado.
Logan had many interests during his short life, but his true passions were swimming and competitive shooting. He was a former member of the High Plains Drifters shooting team in Bennett, Colorado. Logan placed 1st and 2nd in trap and skeet at the Colorado State Competition in 2018. Logan had recently joined the Adams County 4-H shooting team for the upcoming season. Logan was a former member of the Broomfield CARA Youth Swim Team. Logan also loved big game hunting and upland bird hunting with his dad and sister.
Logan was fun-loving with a wonderful sense of humor, an infectious smile and a fun-loving nature. Logan enjoyed spending time with his family and friends, watching movies, playing x-box, and playing with his dogs, Julius and Bailey.
Logan loved the beach in Coronado, California. He enjoyed his morning walks on the beach, watching the Navy seals during their morning workout. He would even wave to them as they ran by him. He was happiest on his grandfather's ranch in Texas, whether it be exploring the ranch, hunting or building a fort with his Texas partner-in-crime, Boone.
Logan is survived by his parents, Adam and Brenda Bowers. He is also survived by his sister, Lindsey Bowers; his grandparents Joe and Gwen Bowers and Emmett and Wanda Brandfas; uncles Brian Brandfas; Brandon Bowers, and aunt Elizabeth Bowers Juzaitis (John) and many great aunts, great uncles and cousins both in the United States and England.
Rest in peace Logan, you will be in our hearts forever.
SPTS, Inc. is a not for profit 501(c)(3) organization. SPTS firmly believes that qualified, accessible education and public awareness of the issue of teen suicide are the best means of reducing the number of suicides. The funds generated in memory of Logan will help to accomplish these objectives and ultimately save lives.
If you prefer to mail a donation to SPTS please download this form (379k PDF) and mail to 110 West Main Street, Freehold, NJ 07728.