Looking to get connected? You've come to the right place, where it's OK to NOT be OK. We get hundreds of visitors daily looking for answers just like you! Here, it's ok to speak up about not being ok – and you'll find that lots of other kids do, too.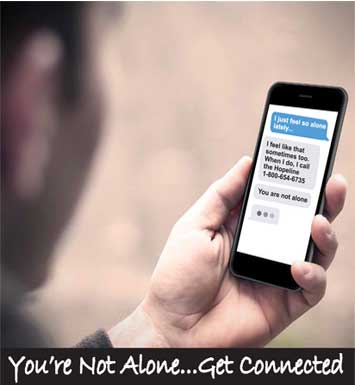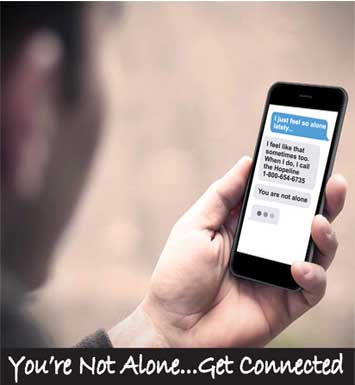 Speaking up is sometimes a hard enough task without the added stress of thinking about where to find the answers to the questions you worry most about. Life as a teenager can be stressful enough as it is… from homework to friendships, fighting with parents to getting into college. Sometimes, you could be looking for answers to questions you haven't even asked yet!
There are hundreds of resources for just about every problem you may have – and what's cool about that is that those people DO have the answers to the questions you want answered, even if you don't believe that they will. Whether you're looking for help for yourself or for a friend, or just need someone to vent to, there are free resources available to you right now that can help with any problem – big or small. The first step is reaching out.
It can be hard to know where to go to find answers that make sense to you. There are MILLIONS of websites out there, and sometimes, the information on one site disagrees with what you find on another one! We've tried to make that easier for you, by reviewing the sites we've selected, to make sure that the information provided is accurate AND relevant to YOUR problems.
On this page you can find all sorts of things – phone numbers, websites, forums, and advice. You can even send your own question to our experts! So, what are you waiting for? Check it out! And remember, don't give up if the first resource you try doesn't work for you… Keep looking until you find one that feels just right for what you're going through.
Need to talk to someone? Pick up the phone and call:

More Resources
National Suicide Prevention Lifeline
Call: 1-800-273-TALK(8255)
www.suicidepreventionlifeline.org
No matter what problems you are dealing with, the National Lifeline wants to help you find a reason to keep living. If you feel you are in a crisis, whether or not you are thinking about killing yourself, please call the Lifeline. People have called them for help with substance abuse, economic worries, relationship and family problems, sexual orientation, illness, getting over abuse, depression, mental and physical illness, and even loneliness. By calling, you'll be connected to a skilled, trained counselor at a crisis center in your area,anytime 24/7. After you call, you will hear a message saying you have reached the National Suicide Prevention Lifeline. You will hear hold music while your call is being routed. You will be helped by a skilled, trained crisis worker who will listen to your problems and will tell you about mental health services in your area. Your call is confidential and free.
You Matter
http://www.youmatter.suicidepreventionlifeline.org/
No matter if it doesn't always feel like it. You matter. And in moments when you feel like you just need some support, there is help out there. You Matter is a movement to spread the word that your problems, your worries, your fears, and above all you—unique and real you—matter.
And because just about everyone—at some point—hits the wall, we're here to help you get over that wall. Reach out to the National Suicide Prevention Lifeline 1-800-273-TALK(8255).
Your Life Your Voice
Call: 1-800-448-3000
Text: Text with a counselor for free every day, 6PM to midnight CST. Text VOICE to 20121 to start.
www.yourlifeyourvoice.org
You don't have to face your problems alone! YourLifeYourVoice.org is part of The Boys Town National Hotline, which you can call, chat, text or e-mail when you are feeling depressed, contemplating suicide, being physically or sexually abused, on the run, addicted, threatened by gang violence, fighting with a friend or parent, or if you are faced with an overwhelming challenge. They also have great tips for coping, talking to your parents, dealing with friendships and relationships, health tips for stress, anxiety and depression, and advice on things like – getting into college or how to study better.
Your Life Your Voice will always encourage people to contact them by phone if they are in any danger or if it is a really serious issues because talking on the phone can provide more immediate help. They realize though that people today are often more comfortable to contact them over the internet, so they have both e-mail and chat available. Your Life Your Voice also has a text service available every night from 6pm-midght. Whichever way you'd like to contact us, we'd like to help! We are here 24/7.
Don't want to talk right now, but want to do something to help organize your thoughts and feelings? Want to have great coping advice at your fingertips? Download the My Life My Voice app for free! It offers a simple solution for tracking your thoughts, feelings and moods in this interactive tool you can keep right on your phone.
The Trevor Project
www.thetrevorproject.org
The Trevor Project is the leading national organization providing crisis intervention and suicide prevention services to lesbian, gay, bisexual, transgender and questioning (LGBTQ) young people ages 13-24. The Trevor Project serves more than 100,000 LGBTQ young people every year through our programs and resources, including:
ULifeline
www.ulifeline.org
ULifeline is an anonymous online resource to learn more about your thoughts and feelings, and to reach out for help if necessary. Visit ULifeline.org to take a confidential screening, to research mental health conditions or to locate resources on your campus.
Half of Us
www.halfofus.com
The Jed Foundation's Half of Us campaign with mtvU uses stories of students and high-profile artists to increase awareness about mental health problems and the importance of getting help. Visit halfofus.com to view video stories, learn more about emotional disorders, support others by becoming an advocate and download the My Mood Ring application for your Facebook page.
National Runaway Safeline
www.1800runaway.org
1-800-RUNAWAY(1-800-786-2929)
When you feel like you can't talk to your friends about what's going on, or you're feeling pressure from family and friends – sometimes we can have thoughts of running away from home. But is it the right answer to your problems? Maybe you left home and want to go back. Or, you need a shelter and don't know how to find one in your area. The National Runaway Safeline can help and are here to listen, no matter what you're going through.
National Association of Anorexia Nervosa and Associated Disorders
www.anad.org
The National Association of Anorexia Nervosa and Associated Disorders (ANAD) is a non-profit dedicated to the prevention and alleviation of eating disorders since 1976. The ANAD Eating Disorders Helpline (732) (630-577.1330) is open Monday-Friday, 9:00 am-5:00 pm, Central Time. ANAD also has a special email address, [email protected] which may be used by those who prefer email instead of phoning.
ChildHelp
1-800-4-A-Child(1-800-422-4453)
https://www.childhelp.org/hotline/
The Childhelp National Child Abuse Hotline 1-800-4-A-Child(1-800-422-4453) is dedicated to the prevention of child abuse. Serving the United States, its territories, and Canada, the Hotline is staffed 24 hours a day, 7 days a week with professional crisis counselors who, through interpreters, can provide assistance in 170 languages. The hotline offers crisis intervention, information, literature, and referrals to thousands of emergency, social service, and support resources. All calls are confidential.
National Domestic Violence Hotline
www.thehotline.org
Operating around the clock, seven days a week, confidential and free of cost, the National Domestic Violence Hotline provides lifesaving tools and immediate support to enable victims to find safety and live lives free of abuse. Callersto the Hotline at 1-800-799-SAFE(7233) can expect highly trained experienced advocates to offer compassionate support, crisis intervention information and referral services in over 170 languages. Visitors to this site can find information about domestic violence, safety planning, and local resources.
RAINN: Rape, Abuse & Incest National Network
https://rainn.org/get-help/national-sexual-assault-hotline
Among its programs, RAINN created and operates the National Sexual Assault Hotline at 1-800-656-HOPE. This nationwide partnership of more than 1,100 local rape treatment hotlines provides victims of sexual assault with free, confidential services around the clock. The hotline helped 137,039 sexual assault victims in 2005 and has helped more than 1.5 million since it began in 1994.
Friends of Quinn
www.friendsofquinn.com
Help and support is out there for those living with learning differences. Tools for self-esteem, organization, stress management, and self-advocacy are available. A section to "Ask the Experts" allows you to address your own personal questions.
SAMHSA's National Helpline
http://www.samhsa.gov/find-help/national-helpline
SAMHSA's National Helpline (also known as the Treatment Referral Routing Service) is a confidential, free, 24-hour-a-day, 365-day-a-year, information service, in English and Spanish, for individuals and family members facing mental health and/or substance use disorders. This service provides referrals to local treatment facilities, support groups, and community-based organizations. Callers can also order free publications and other information.
Call 1-800-662-HELP (4357) or visit the online treatment locators.