SOCIETY FOR THE PREVENTION OF TEEN SUICIDE
10TH ANNUAL GOLF & TENNIS CLASSIC
Local Non-Profit Continues into its 10th year of
Dedication to Reducing the Number of Teen Suicides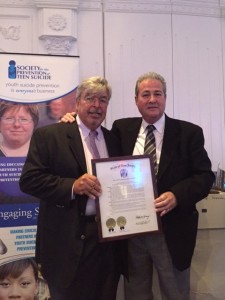 Freehold, NJ (Thursday, June 25, 2015) On June 15, 2015, The Society for the Prevention of Teen Suicide held its 10th Annual Golf & Tennis Classic at Eagle Oaks Country Club in Farmingdale, New Jersey.  Over 220 golfers and 40 tennis players attended the event, with an astounding 380 guests in the room for the dinner reception. A grand total of over $235,000.00 was raised to help SPTS continue its mission to reducing the number of teens lost to suicide. A matching donation was announced during the event's live auction by lifelong friend of Co-Founder Scott Fritz and long-time supporter of SPTS, Jess Ravich, which came in at  $90,000.00.
The organization's founders, Monmouth County residents, Scott Fritz and Don Quigley, who both lost teenage children to suicide over 10 years ago, were honored by SPTS Clinical Director, Maureen Underwood, during the dinner reception. In her presentation, Underwood awarded the founders with symbols of their dedication to the organization's mission: a starfish, stating:
"To us, the starfish is  a reminder that even when we lose a significant part of ourselves, like the starfish that loses a limb, we can regenerate something vital in its place."
Mr. Fritz and Mr. Quigley were also presented with proclamations from Assemblywoman Mary Pat Angelini, for their work in youth suicide prevention.
SPTS is a New Jersey based organization, with national reach. Celebrating its 10th year, SPTS has continued its mission to reduce the number of youth suicides and attempted suicides by encouraging overall public awareness through the development of educational training programs to develop competent communities. Through the donations collected at the Golf and Tennis Classic, the organization is able to continue doing just that.
SPTS offers a variety of resources on its website, www.sptsusa.org.  The topical materials for school faculty and staff, parents and students can be downloaded and duplicated at no cost.  Also available on the website is a free two hour interactive suicide prevention training program for teachers. Making Educators Partners in Youth Suicide Prevention: ACT on FACTS is a user-friendly, online course. Seeing the need to address suicide prevention with parents, which is an underserved population, SPTS produced a video, Not My Kid: What Every Parent Should Know about Youth Suicide. This video, also available at no cost on the SPTS website, gives parents tips to recognize the signs that a teen that may be in trouble and then models how to address those issues appropriately.
If you or someone you know may be suicidal, call 1-800-273-TALK (8255). You are not alone.
# # #