LOCAL NON-PROFIT DIRECTOR NOMINATED AS A NEW JERSEY HERO
Maureen Underwood, LCSW Leads the Charge in Suicide Prevention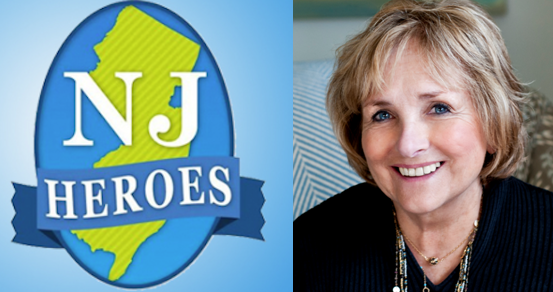 Maureen Underwood, a licensed clinical social worker, has dedicated her life to dealing with the tough stuff – issues such as youth suicide – that no one really likes to talk about. And, because of that work, Maureen has just recently been selected by Mary Pat Christie as a nominee for September's New Jersey Hero. With $7,500 up for grabs, Maureen will compete for the title of New Jersey Hero, by winning with the largest number of votes by September 30th.
With over 30 years of experience, Maureen has served on the New Jersey Governor's Advisory Council for Suicide Prevention. Through this work, she met Scott Fritz and Don Quigley, who would eventually become Co-Founders at the Society for the Prevention of Teen Suicide, where Maureen would make her impact as the organization's Clinical Director.
In 2006, the SPTS team successfully lobbied to have legislation passed in New Jersey requiring all educators to have at least two hours of suicide awareness and prevention training.  In order to provide resources necessary to fulfill this mandate, Maureen Underwood accepted the task of developing an online suicide awareness course, Making Educators Partners in Youth Suicide Prevention. Listed on the Best Practice Registry and specifically designed for school staff and educators, the program is offered at no cost, ensuring that educators both in New Jersey and across the country, have access to the best available methods on suicide prevention for their students. To date, over 100,000 users nationally have taken advantage of this free training.
Underwood also developed and appeared in an on line video; "Not My Kid…What Every Parent Should Know.  Recognized on the Best Practices Registry, this video has been viewed online over 15,000 times and SPTS has distributed over 12,000 free DVDs across the country.
Underwood was instrumental in writing and publishing Lifelines: A Suicide Prevention Program, an Evidence-Based whole-school program listed on the SPRC Best Practices Registry.  Lifelines trainings have been provided to nearly 5,000 educators in 35 states.  Along with SPTS, Maureen has been asked to support multiple communities when experiencing a suicide cluster, including Manasquan, NJ; Kent and Sussex Counties in Delaware; Stillwater, OK; Atlanta, GA; and New York; and has been acknowledged by the Centers for Disease Control for this body of work.
Throughout her career, Maureen Underwood has displayed a passionate commitment to the value of life.  Her dedication to providing evidence based, best practice suicide prevention strategies and her commitment to removing the stigma of suicide has undoubtedly saved lives.
To vote for Maureen, please visit: http://newjerseyheroes.org/index/. Votes can be cast once a day starting on September 16th. Voting ends on September 30th at 10:00 AM.
If you or someone you know may be suicidal, call 1-800-273-TALK (8255). You are not alone.