Raising Resilient Teens in Challenging Times Virtual Parent Presentation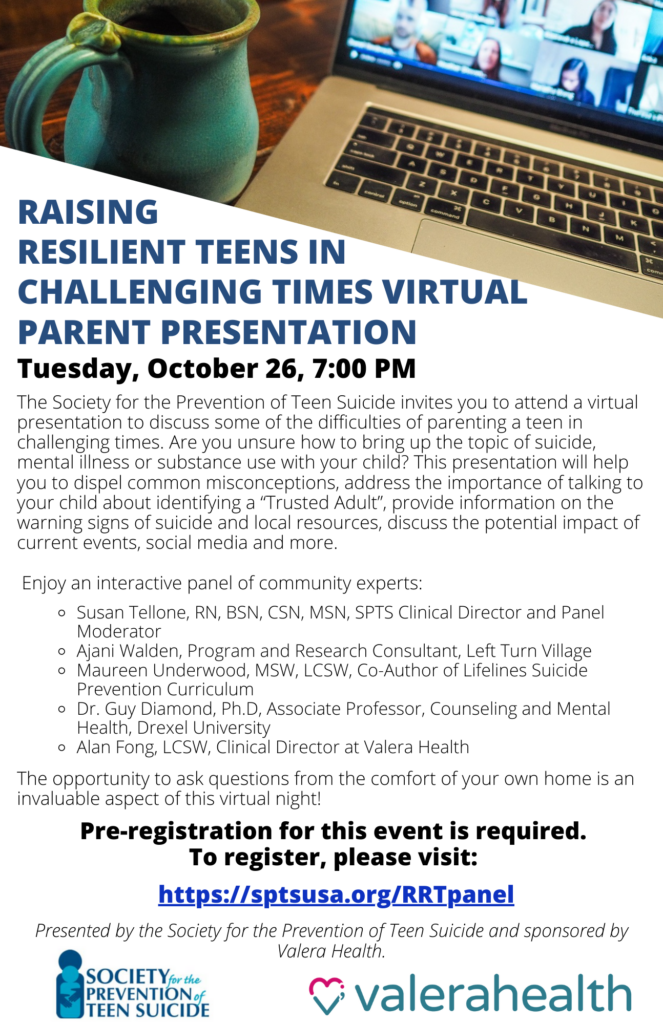 Tuesday, October 26, 2021
7:00 pm via ZOOM
Are you unsure how to bring up the topic of suicide, mental illness or substance use with your child? This presentation will help you to dispel common misconceptions, address the importance of talking to your child about identifying a "Trusted Adult", provide information on the warning signs of suicide and local resources, discuss the potential impact of current events, social media and more.
The Society for the Prevention of Teen Suicide invites you to attend a virtual presentation to discuss some of the difficulties of parenting a teen in challenging times. The evening features an interactive panel of community experts for you to learn from. Panelists include:
Moderated by Susan Tellone, RN, BSN, CSN, MSN, SPTS Clinical Director
Ajani Walden, Program and Research Consultant, Left Turn Village
Maureen Underwood, MSW, LCSW, Co-Author of Lifelines Suicide Prevention Curriculum
Dr. Guy Diamond, Ph.D, Associate Professor, Counseling and Mental Health, Drexel University
Alan Fong, LCSW, Clinical Director, Valera Health
The opportunity to ask questions from the comfort of your own home is an invaluable aspect of this virtual night!
This Raising Resilient Teens Parent Panel Presentation is presented by the Society for the Prevention of Teen Suicide and Sponsored by Valera Health.

---
Not My Kid: What Every Parent Should Know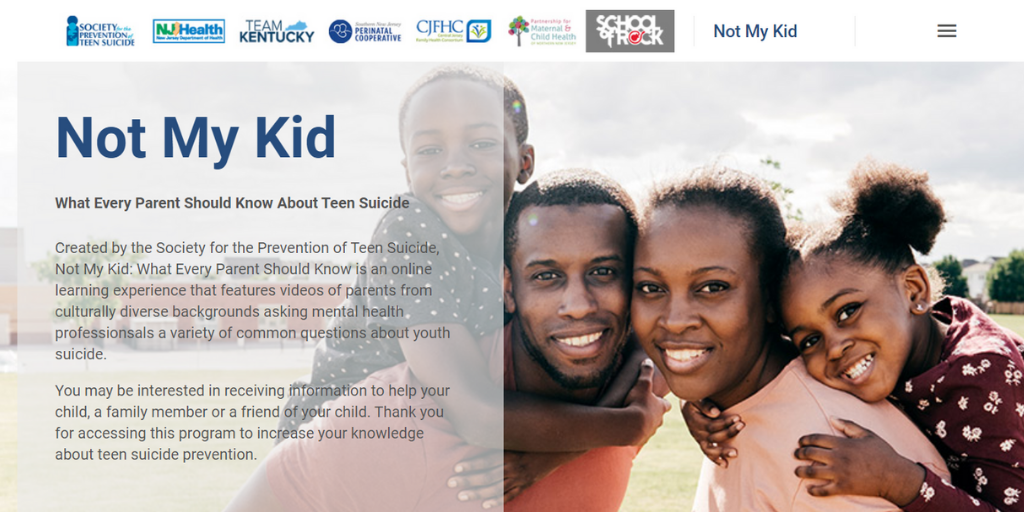 Created by the Society for the Prevention of Teen Suicide, Not My Kid: What Every Parent Should Know is an online learning experience that features videos of parents from culturally diverse backgrounds asking mental health professionals a variety of common questions about youth suicide. You may be interested in receiving information to help your child, a family member or a friend of your child, and Not My Kid provides this information from a variety of mental health professionals.
Not My Kid contains a variety of videos that assists parents, guardians and trusted adults in knowing the warning signs of youth suicide, explains how to have important conversations and provides valuable resources to help keep their children safe. It includes developmentally appropriate information for youth of all ages including Elementary, Middle and High School-aged youth and Young Adults. To view the Not My Kid program, please visit www.sptsusa.org/NotMyKid
---
Additional Resources for Parents and Youth
---